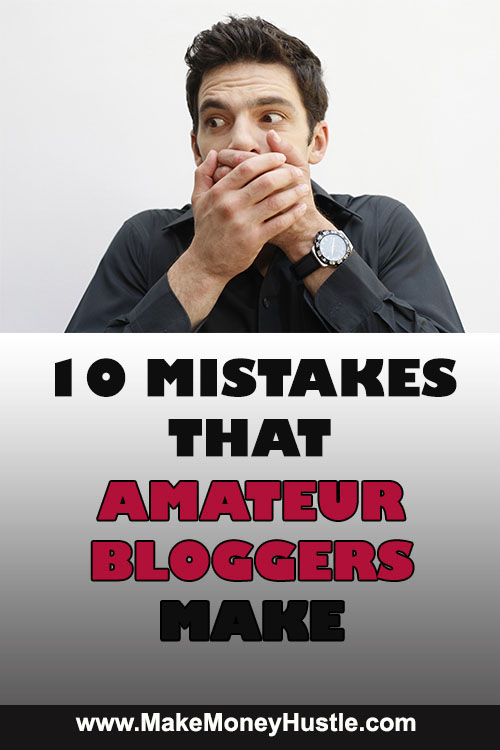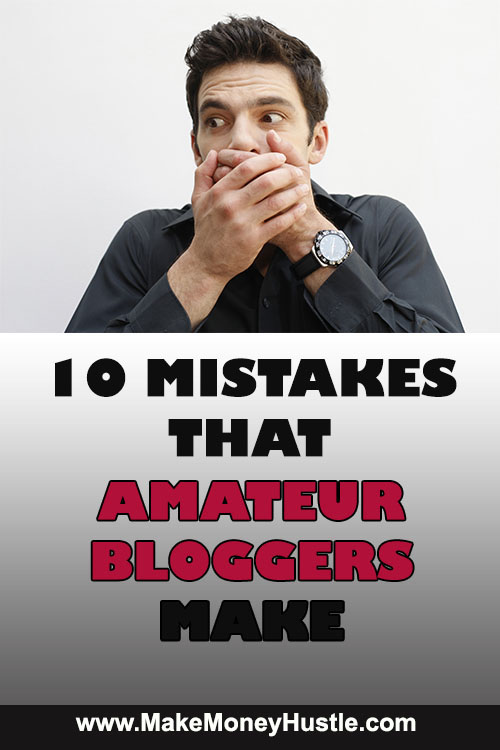 We may be successful now, but we were all once amateur bloggers.
I was once an amateur blogger too.
There is so much transformation that I have personally gone through, and in a good way.
I made many mistakes but with each mistake, I fell down but got back up much stronger and smarter.
It is actually good news to be an amateur blogger.
It proves that you actually had the courage to begin without needing to have everything perfect. It is a matter of just raking action and learn along the way.
Here are some mistakes that amateur bloggers make – if you're doing them, you need to learn!
10 Mistakes That Amateur Blogs Make
Avoid these common mistakes amateur bloggers make! Everyone wanting to start a successful blog has to read this before they launch their website!
1. Not self-hosting
The first mistake new bloggers and entrepreneurs commit is not to self-hosting their own. This may be due to ignorance or just trying to cut cost.
It is crucial to have your own domain name and hosting. It ensures that you own your own servers and in total control. Further, it allows you to have access to a many essential plugins that allow various functions to your site.
If you do not host your own blog, you stand the possibility if losing all your contents and work should the company shuts down or decides to close yor account. So you do not own your business assets.
If you need more information, you can access my Free ebook here:
https://viralquiz.xyz/internethack
2. Not making it a priority
I was blogging as a hobby for many years. As a hobby you are not serious and you are not going to make any money out of your blog. When you treat it as a business, you'll invest in your business getting the relevant tools and resources. You spend more time and you'll have a plan and strategy.
You have to be serious and make it a priority if you want to make money from blogging.
It is easy to neglect your business and blog if you are not committed. You need to motivate yourself if you desire success. You need to be serious and give it priority.
So how badly do you want it? Do you have the courage and persistency to stick it through?
If you think you can, you can. If you think you can't, you can't. It is as simple as that.
So you just need to decide to make it happen regardless of your current circumstances.
3. Ugly website
When I first started and was not making much, I invested in a good theme because I know that this will make a difference to my blog.
If your website is ugly and unprofessional, people do not take you seriously. People will think you are unreliable and will not do business with you.
I do agree that there are successful bloggers with ugly website, but these are the exceptions rather than the norm.
I have seen many amateur bloggers try to do it with a free theme. There are many reasons why you should use a reliable theme from the beginning:
1: A good theme will be updated regularly for any bugs. The free themes will end up slow and crippled with errors. There is no maintenance and updates by the owner. After all the themes are free.
2: Good themes are used by many bloggers – therefore any errors due to updates (eg WordPress updates, plugin updates) would be discovered quickly and resolved.
3: Good themes are usually better for SEO as they are faster and have in-built SEO features.
4: Good themes are more flexible and have more built-in functions that you can use. As a result you don't have to hire someone every time you want to make changes to your blog.
5: Good themes look professional. The first impression is important.
The truth is that when a theme is free, there is generally no incentive for the developer to keep maintaining it. I am sure this makes sense!
Sometimes these themes may be free but you need to upgrade for the additional features. So it is better to pay up-front than be hoodwinked later on after you've spent a lot of time on a theme.
So it is advisable to invest in a good theme rather than wasting your time trying to make a bad theme work.
I recommend you investing in the Divi theme. The Divi theme is extremely customizable and can make your site look personalized and professional.
It's drag-and-drop builder. It is designed for someone that isn't tech savvy. It is one of the most popular themes on the market today.
Another choice is Genesis. I recommend this high-speed theme if you are familiar with code. It is a great theme, but may be hard to customize if you're a beginner.
The Divi theme will cost you $249. I know this can be quite expensive for new bloggers. So as a great alternative you can get the Flatsome theme from Evanto. I think it is $59.00 at this moment.
https://themeforest.net/search/flatsome
4. Not planning your blog posts ahead
You need to post to your blog regularly. It will take time and effort, so planning is crucial
5. Not starting an email list
Yes, it's that email list thing again.
I am glad that I started building my email list when I got started. There are many bloggers that started building their list very late. I am sure they regetted it!
Having an email list is important. It allows you to build a relationship with them and when they trust you, they will buy from you. Your list is your asset and it belongs to you. Your followers and fans on Facebook do not belong to you. They belong to Facebook and you can lose them when Facebook decide to shut down your account.
If you want to start your email list TODAY, read my free ebook:
https://viralquiz.xyz/internethack
6. Not optimizing your posts for Google
You should optimize your posts for SEO and Google from the beginning. If you do not, you will probably have to go back to all your old posts to update them. This can be a big issue.
For SEO purposes, your blog post title and description need to be optimized for keywords that people are searching on Google. This will allow your content to be listed on Google.
7. Not having a plan to promote
You will realize that when it comes to promoting their blogs, some people recommend Pinterest, others use facebook and other social media platforms.
Everyone has their own plan and strategy. You can't just take a piece of someone's promotional strategy and expect it to work for you. You need to find one that works best for you and you are comfortable with.
8. Comparison
I used to admire other people's blogs and look down on my own. Oh, I am not as good as them!
You should never compare yourself to another entrepreneur. They have their good points, but believe me, you have your own good points too. So you are better then them in some ways.
Comparison can kill your motivation. You start feeling like you aren't good enough. You feel and believe that you cannot get your brand to stand out from the crowd.
We are all created with our own uniqueness. Remember that you are special and you are as good or even better than most of them out there. Ultimately, it boils down to each individual experiences and motivation
Everyone starts somewhere so stop comparing yourself with others.
9. Listen to someone that has done what you want to do
There are many so called gurus out there. Look at their achievement and records before you listen or invest in them. Have they achieved what you want to achieve? If the answer is no, just move on to another person.
If you are hiring a designer and the person has a crappy looking site, you probably should be careful.
Also should you hire an SEO guru who doesn't have a presence on Google?
And if you are hiring a business coach, does he/she have a business that you want to achieve in the future?
I have personally created and sold more than 10 books on the Internet. These books are not ghost written. I authored it with my own experience and knowledge. So I am talking from my own experience and success.
10. Not willing to invest
I personally spend thousands of dollars every month to improve myself and my business. It is wise to invest in yourself. I know that you may be new, but you need to have an entrepreneur mindset as opposed to an employee mindset. Blogging is a business and like any business, you need to invest. However, the investment is pretty small.
It is better to invest than to waste time on things that do not work. Some of the necessary expenses include:
(a) A domain name
(b) Hosting
(c) Reliable theme
(d) Relevant plugins
(e) Autoresponder to build your email list.
(f) Invest in courses to learn
But remember to remain focus. Do not spend on other tools and resources that are not necessary. There are many promotion on a daily basis. New methods and software are being launched every week. If you do not need them, don't buy them!
Okay – we have come to the end of this article. If you're just starting out, you probably would have learnt a lot from these 10 common amateur blogging mistakes.
I hope that you have found this useful! Even if you have committed some of these, you can always learn and move forward. There's strength that comes from falling and picking yourself up.
You can do this!