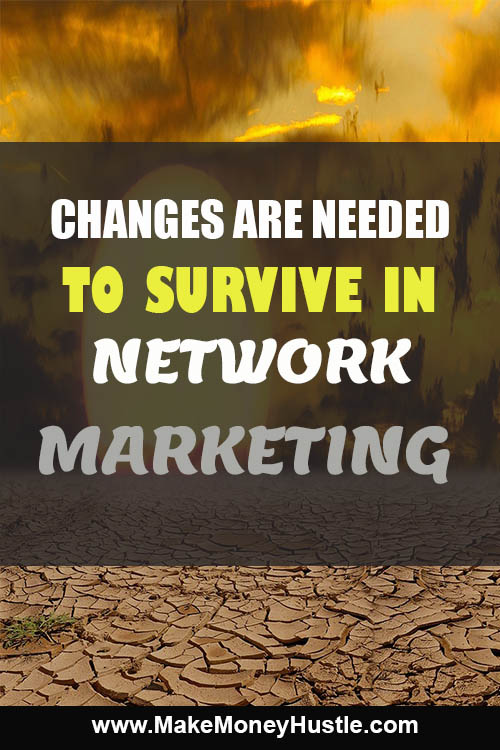 Everything changes with time. If you keep on doing the same thing, you'll get the same result. In today's competitive environment, we need to change and be better. What worked years ago may not necessary work today!
Technology changed. I remembered years ago when I was giving Internet seminars, we had to rent the old fashioned computers for the participants. The Internet was not easily available. There was only Yahoo. There was no Google and all the social media sites like Facebook, LinkedIn, Youtube, Instagram, Pinterest were not present.
I still recalled when the first hand phone was introduced. It was like carrying a briefcase and very expensive too. Can you imagine carrying it around today? You probably look like a fool.
What I am trying to show you is that we need to change. If we do not change, we will one day become extinct and not relevant like the dinosaurs.
Due to the advancement of technology we can communicate, present and market more effectively.
Here are some of the things that can assist us to build our Network marketing business more effectively.
Communication
Communication is easy and fast today. Make use of emails and texting effectively. We can use technology like WhatsApp, Telegram, WeChat and Skype to text and communicate.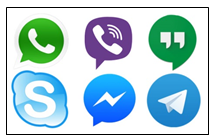 Some of the social media sites like Facebook and LinkedIn allow real time texting too. Most of all these are all free.
If you are not using these, then you need to start using them for better and faster communication.
Presentation
In today's environment, you do not have to travel to do presentations and trainings. You can do them Online via the Internet. You can use webinar platforms such as Zoom. You can sign up for a fee account here: www.zoom.us .

For the free version your presentation is limited to 60 minutes. You can upgrade at a reasonable price if you need more time. This is the platform I am currently using. I have tried others but most of them are expensive and not stable.
Marketing
The money is in the list! It is crucial for you to build a list as it will allow you to communicate with your tribe and nature relationship with them. When you build your list, it belongs to you. When you use facebook and other social media sites, you may have friends and connections, but these do not belong to you. When your accounts get shut down, you lose everything.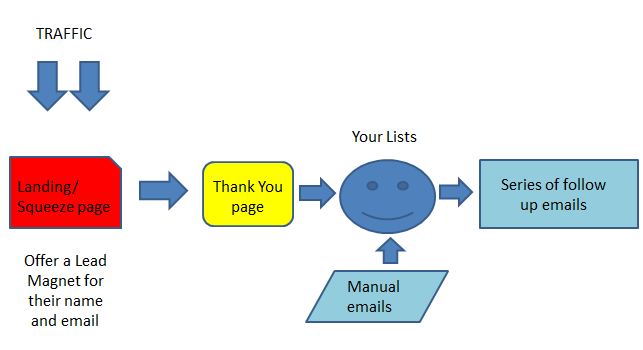 TRAFFIC
The first ingredient is traffic. You need to drive eyeballs to your landing page. These can be free traffic or paid traffic.
Free traffic can be from the following sources:
1.Facebook groups and fan pages.
2.Other social media sites like LinkedIn, Instagram, Pinterest to name a few. When you make posts with your links you can generate free traffic.
3.You can also get free traffic from your blog.
4.Posting and interaction in Forums and Groups.
5.Uploading videos to Youtube
Paid traffic:
1. Facebook Ads
2. Google Ads and pay per click
3. Solo Ads
These are some of the popular traffic source.
Landing Page
This is sometime known as squeeze page. The purpose of this page is to capture the name and email of your prospects. In order to encourage them to provide their details, you need to offer them something of value for free. This is known as a 'Lead Magnet'. A lead magnet can be a free ebook, report, audio, video or software.
This is an example of a squeeze page.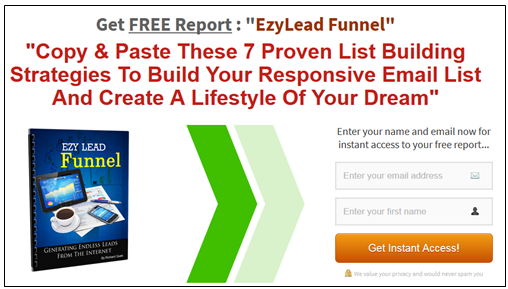 In order to capture the name and email of the prospects and to automatically send follow up emails to them, you need an email software called 'autoresponder'. There are a few good ones in the market:
Aweber: www.aweber.com
Getresponse: www.getresponse.com
Thank You Page
This is the page that you'll direct your prospects to after they fill in their name and email address. This page will have the download link to the 'lead magnet'. You can also include an OTO (One Time Offer) on this page. This will offer some similar products for sale to the prospects. When you monetize the page, it will allow you to earn extra income to cover the cost of your advertisements.
Your List
Once your list is in the database of the autoresponder service provider, the prospects will receive your pre-determined emails from you automatically at the specified time interval. You will of course need to write and set up the email sequences. As a suggestion it is great to have at least 7 email series. Statistics show that prospects make decision after at least 7 exposure.
Occasionally, you may want to manually send emails to your list.
Here is a quick tip for setting up your emails. Make sure that you provide value and educate your list. They are now part of your tribe and you need to appear to be an expert and nature relationship with them. Don't try to sell them things before you build trust with them.
Hope you find this chapter useful. Stay tuned, as in the next chapter we will take a look at some advanced strategies that we can use…