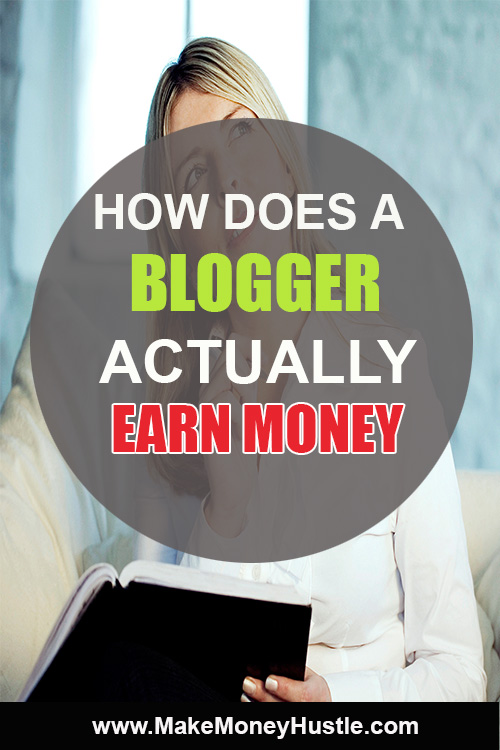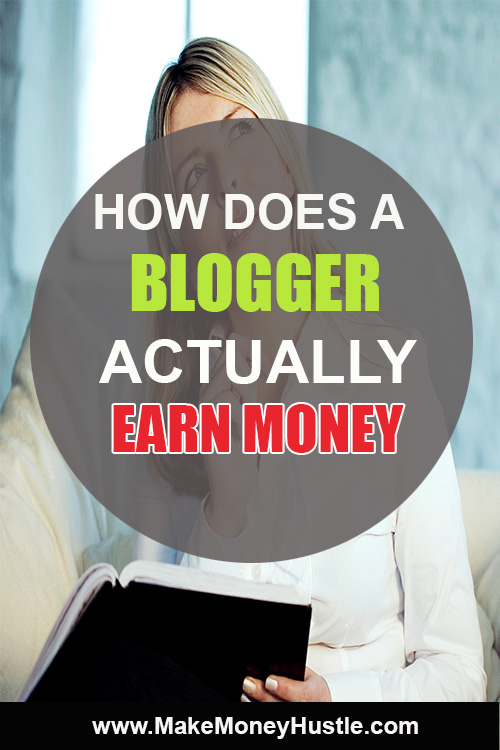 If you've been following this blog for a while, you've probably seen me recommend blogging as a way to work from home for yourself. It's not a fast way to earn money. But when you've established your online presence, there's a lot of potential to earn an income with your blog.
A common question I hear, "How does a blogger make money?". Most people I know fail to realize that profitable blogs exist!
So How Do Bloggers Make Money?
The short answer — advertisers. And while that's certainly true, it's not the only way to earn money with a blog.
So today I'm breaking down for you the primary ways bloggers earn an income from home, in case you're one of those people who didn't know that blogs can make you money.
#1 – Ad Networks
Ad networks are often the main earner for many bloggers and certainly the easiest to maintain because it's possible to "set it and forget it" once it's in place. Bloggers sign up with popular ad networks like Google Adsense or Media.net and place code in the sidebar, header, footer, or inside posts that will display third party advertisements.
The bloggers get paid a certain amount per thousand impressions or a certain amount per click.
#2 – Direct Advertising
Bloggers often sell advertising directly, in addition to, using ad networks. What this means is that the blogger is in direct contact with specific advertisers and will be able to negotiate rates and approve or disapprove advertisers based on whether what the advertiser wants to promote is a fit for their audiences.
With ad networks, the blogger doesn't have as much control over these things, so many bloggers prefer direct advertising because they have control.
#3 – Affiliates
This is another form of advertising, but instead of getting paid a flat rate or a certain amount per click or impression as you do with advertisers, the blogger gets paid a certain amount per lead or per sale of what they are promoting.
For example, I'm signed up with the ShopHer affiliate network (as are many bloggers) because they have a lot of paid survey and money-saving offers that will appeal to my readers. I can earn a commission every time I link to one of their offers on this blog and use the affiliate link they provide that is unique to that offer.
Then, if a reader clicks through the link and buys or signs up for what I recommended, I will earn a small amount of money per lead or per sale!
You do have complete control over what products and services you want to promote as an affiliate, so it is possible to only recommend things you approve of.
#4 – Selling Your Own Products & Services
A blog is an great platform for selling your own stuff. I know many bloggers that offer services like coaching, graphic design, virtual assisting, and writing. Bloggers can also sell products like e-books they've written or crafts they've made.
Another idea – If you are involved in any direct sales opportunity, you can use your blog as a platform to promote those items and/or build your downline.
#5 – Sponsored Posts
Many bloggers earn money by writing posts paid for by advertisers to promote the products and services of different companies. Most bloggers charge hundreds of dollars for these because it's a form of permanent advertising for companies.
However, sponsored posts must be disclosed as sponsored so the reader understands when they see the post that it was paid for by the company.
Most bloggers do not do this for just any advertiser and are very selective because it would reflect badly on them to help promote a company that isn't that awesome.
Linqia is one example of a site you can use to find these sponsored opportunities to sign up for.
How Do Bloggers Get the Money They Earn?
As it is with anything, different companies pay in different ways — usually direct deposit, Paypal, or mailed check.
The vast majority of companies bloggers use to earn an income pay once a month — either at the end of the month, the middle, or the very beginning of the month just depending on their terms.
Should Bloggers Earn Money?
Believe it or not, you may have people complain about your ads and affiliate relationships. Unfortunately, some people actually think bloggers should work for free, and what we do isn't a "real job". I'm not the only blogger who has experienced this.
There are some people who feel "cheated" when they learn that their favorite blogger accepts money from advertisers, affiliates, and for doing sponsored posts, and then decide they just can't trust anything that blogger says.
The truth is that running a blog — especially one that gets a good amount of traffic — is easily a 30 to 40 hour per week undertaking. There is always writing to do, outdated posts to update, comments to moderate, emails to answer, social media accounts to keep updated, graphics to create, and lots of other "behind the scenes" tasks that take up quite a bit of time.
It also costs money to run a blog successfully. I have to pay for my domain, hosting, newsletter, stock photos, writers, occasional advertising on Facebook and Pinterest, and some social media services I use.
So with all that in mind it's easy to see why, bloggers should earn money because they put in a lot of time and effort in addition to investing money. Blogging is real work for professional bloggers, and no one should have to work for free.