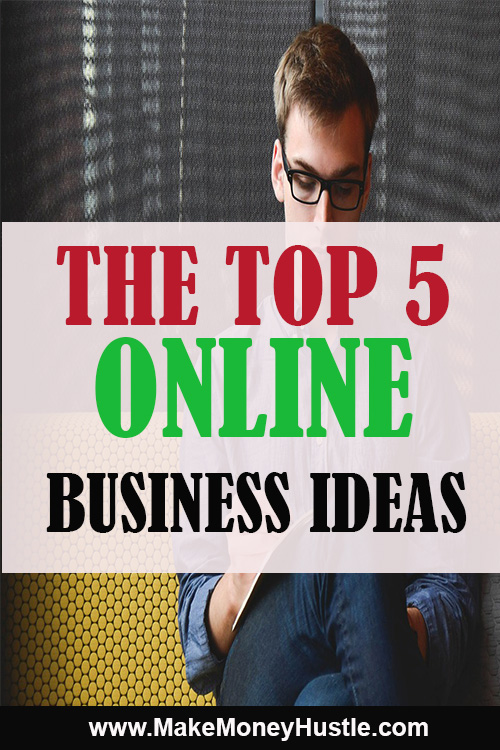 Currently people are very excited about making money online by doing some form of online business or online jobs from the comfort of their home.
Why Online Business is preferred
Time is changing frequently, new kinds of jobs and businesses are emerging in this internet era, and working online is becoming one of the best choices of everyone because it can give
(a) The flexibility of time and place.
(b) Availability of plenty of resources.
(c) Proper guidance and mentoring can be found (mostly free of cost).
(d) Variety of jobs and business according to your choice.
(e) And the most important thing is the FREEDOM it can give you.
Many people are using the internet to find solutions for their problems.
That's where a creative mind can leverage the potential of the internet, by providing the right solution to the right people and that's how an online business comes into the picture.
Top 5 Online Business
Here the most demanded online Business and also proven to be most successful on the internet.
1. Start a WordPress Blog
This is the first recommendation for doing something productive over the internet to make money online.
Many people are blogging and living their dream life by making good income. You can do the same.
You can start blogging on any of the topics which align with your interest. It may be about your hobby or passion.
You can also blog about sports, travelling, finance and budgeting, DIY topics, or any of the topics you can think about.
The good thing about this is you can have a plenty of resources to get started.
As an example, you can start blogging using Google's blogging platform called Blogger. This is completely free.
This is not recommended as it is free but with limitations. There are plenty of limitations in customizing your blog.
If you cannot customize your blog according to your readers need, it is hard to make money from your blog.
I recommend to start "Niche Blog" ( that means picking a micro or a certain topic) creating a blog over a niche topic or a micro topic which is more profitable than on a broad topic for example:
cricket instead of sports
Hotels instead of Travelling.
How to earn
There are many ways to monetize your online business from blogging. Most recommended are
(a) you can run ads with your content from Google Adsense.
(b) you can promote some products which belong to your niche of the blog from Amazon marketplace.
(c)You can use Affiliate Marketing for making money
2. Shopify
This is the second most preferred and recommended method of doing online business and making good money. The reason is you can have rapid growth in your online business career.
If you have ever thought of owning an e-commerce business or an online business shop where you can display some products and sell them,
Then Shopify is the best option.
Shopify Allows you to open an online shop (e-commerce website) with extremely easy store setup panel.
There are some people who are making more than $10k in a month by selling products from their Shopify stores.
How to earn
If you don't have any product to sell, Shopify has also made this easy. You can import products from oberlo (and you can set your price for such products according to markets) to your Shopify store.
You just have to market those products and generate sales from your customers.
The best thing about oberlo is, you can find trending products or the products you like.
With proper setup and good product range, you can have your dream online business running within few days.
3. Affiliate marketing
Affiliate marketing is all about selling other's products and getting paid the commission.
Picking a product from a marketplace (Amazon, ClickBank, ShareASale etc.), then promote those products. Share in whatever way you can, you may run ads, you may share such product link on social media, you can review those products on your blog.
It is shown that affiliate marketing will grow by 10.1% each year until 2020 and more than 80% retailers will opt for affiliate marketing.
Around $5.3 Billion were spent through affiliate marketing in the US in 2017. An average 16% online sale are generated from affiliate links.
These stats show the great potential of affiliate marketing.
How to earn
Affiliate marketing is all about driving visitors to the sales page of the products you are promoting.
If the visitors purchase from your affiliate link you will get commission over that sale.
You need to sign up for partner program on the marketplace (Such that Amazon, ClickBank, ShareASale etc.). Then choose the best product and get the specified link of your own and start promoting with good marketing strategies.
4. Become a Remote Worker
This is one of the best methods for monetizing your talent.
Nowadays many companies tend to outsource their jobs to the people who want to work from home. The number of remote workers has increased 115% in the last 10 years, according to a new report from Global Workplace Analytics and FlexJobs. This show a huge demand of remote workers.
This allow you to work as a free lancer from the comfort of your home to generate extra income.
How to earn
There are numbers of Platform, but I personally prefer freelancer, upwork and Fiverr. What you have to do is to find your talent and register yourself on these websites.
Be professional by offering your service with competitive pricing.
If you are not sure about what to offer then have a look at pro tips for offering trending services as a freelancer
5. Domain Flipping
Domain Flipping means "to resell a domain".
Do you know that over 47,450,000 new domains are registered each year? And an additional 42,625,000 are transferred to new owners.
That's exactly 90,075,000 potential customers waiting every year to spend their money. They are probably waiting to spend their money with you. If you look at this opportunity seriously you can bring a huge difference in your life.
So if you are serious about making $5000 or more money every month, working less than 15 hours every week, you must master this online business.
How to earn
It is one of the most profitable online business as you are purchasing an attractive domain from domain providers for low prices and resell them over GoDaddy resell domain section or flippa for higher prices.
This is a great business you can start. Remember a business cannot sustain without investments. So for this, you have to invest some money to purchase a domain and membership.
Other Online Business
There are many ways to make money on the internet, but to be successful, you must focus and stick with one. I'm going to list some of the other online business which is also easy to start.
Start making money by CPA marketing, start ASAP no bank details required.
Start YouTube channel.
Become a content writer
Participates in surveys
Publish an e-book with amazon kindle
Create a digital course on any topic you like
And many more others
Now you have an idea of what is available. It is just a matter of choosing what is suitable to you and taking action.